Free St. Paddy's Day Assignment Sheets
Happy St. Patrick's Day Week! Here's a fun little freebie for you to use with your young (and maybe not-so-young) piano students. Last year I had a few St. Paddy's Day designs built in to my Spring Assignment Sheet pack. Thought I'd add a few more for my favorite holiday!
My favorite addition this year is the adorable St. Paddy's Day mouse. How can you resist a mouse who's wearing a bowler hat and a bow tie? (Answer: You can't. Resistance is futile. Give in to the cuteness!)
For those of you who are new to my beginner piano assignment sheets, here is what my layout looks like:
There's plenty of space to write assignments, plus a 4 octave keyboard to mark new fingerings or use for simple assignments (mark all the D's!), a staff for new warm-ups or practicing notes and clefs, and a "Remember" spot for important notes to students or parents about Spring Recitals or tuition due dates. The cute illustrations at the bottom are a great way for students to keep track of their practice throughout the week!
Instructions to Download:
To download the FREE St. Patrick's Day Assignment Sheets, just click HERE
You MUST save the PDF to your computer to ensure that all the images will print out correctly — otherwise some lines or images may not appear.
To Save: Click on the link above, Select the folder you wish to download to, then click "Save."
To Print: This is a PDF file. Use Adobe Reader or a similar program to open and print.
Printing Tip!
Did you know that you can save on ink through the HP Instant Ink program? If you have an HP Instant Ink compatible printer, they will deliver ink to your door before you even know that you're running out. Print 300 pages for only $9.99 a month, 100 pages for $4.99 a month, or 50 pages for $2.99 a month. (And they have cheap overage charges! No need to worry about running out of pages.)
Whether you print a little or a lot… HP Instant Ink is WAY cheaper than buying cartridges at the store. I've saved $100s of dollars over the years by using this service! Sign up using my refer-a-friend link, and we'll both get a free month of service! Use coupon codes SAVE50NOW, FREEINK, and HPINSTAINK4U to get up to 6 months free. (Coupon codes will be added on the very last page!)
Terms of Use: By downloading this file, you are agreeing to the terms of use found on SarasMusicStudio.com.
Image Credits The piano and staff are © SarasMusicStudio.com. All St. Patrick's Day themed graphics are created by MyCuteGraphics.com and are used with permission.
Looking for more St. Patrick's Day resources? Take a minute to check out my St. Patrick's Day Rhythm Game – it's FREE, easy to print, plus you can use rhythm cards that you already have in your studio! Clap your way along the path to get Finegan the Fiddler's pot of gold. The "Challenge" cardswill have everyone actually playing the piano during the game. My students love it 🙂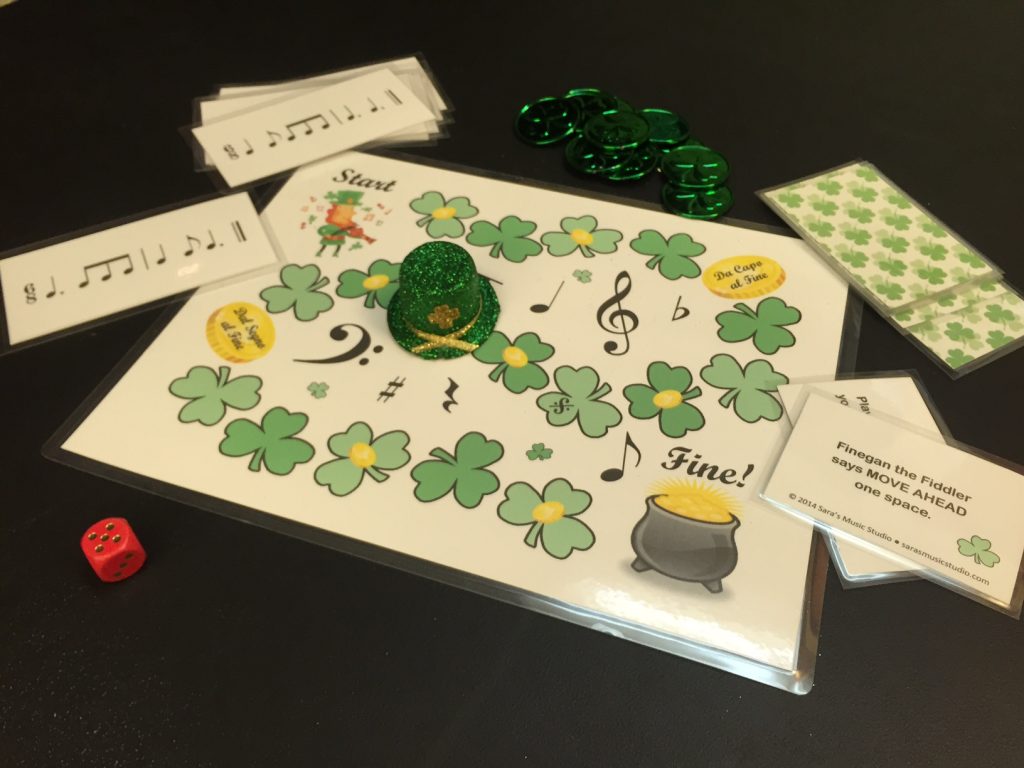 Let's share! What are YOUR favorite St. Patrick's Day resources? Leave a comment below with the name of the game and a link!
(Visited 619 times, 1 visits today)